Outlet
Showing all 4 results
Sale!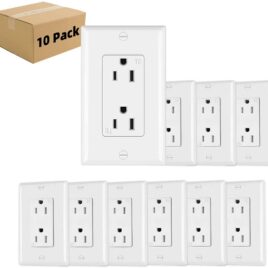 15A Outlet Socket 10Pack
【High Quality】 High-impact resistant thermoplastic face and back body eliminate cracks, breaks and callbacks, create a finger-safe application before, during and after installation, and offer long, trouble-free service life.

【Tamper Resistant】 Child proof shutter mechanism inside the receptacle prevents young children from inserting unwanted objects into the outlets to keep away from electrical shock and keep you and your family safe.

【Easy Installation】 Designed for quick push-in wire and side wire. Break-off plaster ears for best flush alignment. Break-off tabs allow easy two-circuit conversion. Longest, broadest mounting strap for the best possible reach to wall or panel surface.

【UL & CUL LISTED】 Designed and tested in accordance with UL498 requirements. UNIVERSAL APPLICATION – These outlets are suitable for installation in various locations from home offices, business buildings, public areas, and more where only require a 15 Amp outlet.

【Self-Grounding】 A green grounding screw and self-grounding clip provide for automatic grounding in the junction box can protect electrical appliances and effectively avoid electrical damage from strong electric charges and also protect you from electrical shock.
not rated
Add to cart